LUCAS SITHOLE
LS8703
"Peace to the World" ("Happiness to the World") ("Christus Figur"), 1987 - Indigenous wood from Zululand - 195x038x022 cm
Collection:
(click on image for better view!)

Konsistorium der Evangelischen Kirche, D-Berlin-Brandenburg (Andachtssaal)
Provenance:
Gallery 21, Johannesburg
Work exhibited:
Gallery 21, Johannesburg - 1987 cat. X17
Work reproduced:
Gallery 21 Johannesburg - Lucas Sithole invitation card Oct. 1987, ill.
Weekly Mail Johannesburg 16.10.1987, ill. - Gallery 21 advert
Gallery 21 Johannesburg - June 1988 overseas price-list, cat. + ill.
BROCHURE issued by EKB, Berlin 1989, commented +ill.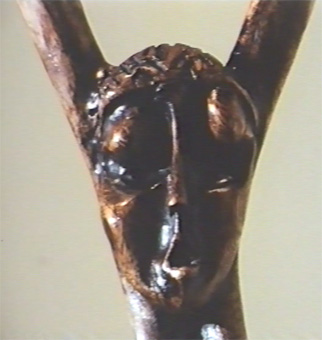 LS8703
Still from the video "Black Art" produced by Etienne de Villiers, SABC, for "Collage", 1987
Press review:
Financial Mail Johannesburg - 23.10.1987, commented
Beeld Johannesburg 28.10.1987, commented
Our Art4 Ons Kuns (F.E.S.T., Pretoria), 1993, commented
Note:
This sculpture is recorded and illustrated in the monograph published in 2015
"Lucas SITHOLE 1931 – 1994: Highlights 1966-1993" – ISBN 978-3-033-04655-9 – on pp. 150/151
Artist's Legend
"It is a sacrifice I made to my Heavenly Father - an Offering I had to make, so that you, your brothers and sisters and your lovely children could share happiness, joy and peace in this World, because now your sins have been washed away."