Lucas SITHOLE
1931 - 1994
--------------------------------------------------------------------------------------------------------
Major works in Private, Corporate or Public Collections throughout the world
1985-1987
--------------------------------------------------------------------------------------------------------

Lucas T. SITHOLE in 1989
(Extract from the Private Diary of LUCAS SITHOLE, handwritten in 1985)
"Life can bring happiness, also joy and sometimes sorrow. Life is what you make of it; you can brighten it and you can also make it dull. With determination you can alter some very difficult situations. With hope and hard work you can also bring success to your life."
"Most of my sculptures are derived from stories, sometimes from dreams. But some of them are from the people around me - friends and enemies, but I do not think that I have many enemies left, for I always try to change them into good friends."
"An artistís life is a very, very difficult one; some people close to him always want to bring misery into his life."
"An artist has no freedom of movement, by this I donít mean politically. What I mean is the freedom of movement and peace in his home. From poverty and hard struggle for his family, an artist will save every penny to build his wife and family a beautiful home. After all this struggle and hard work, the artist is not allowed to paint or work in the home, because his work is described as filth."
"That is why I gave up painting completely and resorted to sculpture. I used to carry wood in my bakkie or car into some lonely plantations to work there, where I found happiness, for the birds never said I was making horrible noises with my chiselling and banging on wood or stones. Instead the birds sang to me."
"But all this did not stop me from turning out some of my best sculptures. It is amazing how some people could really read from them the sorrows and pains I had concealed in some of my wood and stone sculptures. I must really say these people are godly-hearted, for this is a secret I had always kept to myself."
"These troubles I have had - I love them very much for they have contributed to what I am to-day, and they can also be seen in my work."
"Come what may, Iíll never stop praying: Nkosi - ngihole - ukhanyise - indlela - yami - ngikubone - ngenhliziyo - yami - ungavumi - ngilahleke - ngenze - ngibe - umtwana - wakho - sonke - isikhathi - Amen."
"Guide me, o Lord - Amen"
The sculptures on this and the following six pages represent but a few of the almost 800 major sculptures recorded which the artist produced in his lifetime.
All dimensions given are in cm, Height x Width x Depth, including base.
--------------------------------------------------------------------------------------------------------
Highlights
--------------------------------------------------------------------------------------------------------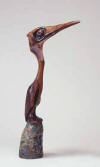 "The good shepherd", 1985
LS 8509 Swazi wild olive wood 79x41x17
Private Coll., Johannesburg, ZA
.

"Liphi Zembe" (Where is my axe ?), 1985
LS 8512 Umgwawuma wood 32x96x42
Private Coll., Southport CT, USA
.

"Sengcalile" (We have just begun to dance), 1986
LS 8602 Zulu indigenous wood 180x33x33
Public Coll., Pretoria, ZA
.

"Peace to the World" (a.k.a. Happiness to the World), 1987
LS 8703 Zulu indigenous wood 195x38x22 (Detail)
Coll.: Evangelisches Zentrum, Berlin-Brandenburg, D
.

"I won't stop crying !", 1974 / 1987
LS 8705 Ironwood 66x59x36
Coll.: University of the Free State, Bloemfontein, ZA
.

"Fazini" (Very friendly), 1987
LS 8710 Zulu indigenous wood 69x37x38
Coll.: Oliewenhuis Art Gallery, Bloemfontein, ZA
.

"uBalekelani ?" (What are you running away for ?), 1987
LS 8714 Indigenous wood on msimbiti wood 60x51x29
Private Coll., London, GB
.--------------------------------------------------------------------------------------------------------